Hello Everyone!
The September 2010 issue of Jewelry Artist magazine had a wonderful article on Cartier. I love learning about other designers and how they found success. The article focused not only on the history of Cartier, it also gave a glimpse into their design theory. The article told of an incident between Jacques Cartier and a young designer by the name of James Gardener. As Gardener was designing a piece for Mr. Cartier, Cartier showed him a picture of a table leg taken from a book on Chinese furniture. Mr. Cartier pointed out some of the design aspects of the table leg to inspire Gardener to create jewelry using similar forms.
Mr. Gardener's experience really struck a chord with me. Over the years I had used a similar technique to create some of my own work. I've spent many hours pouring over books on antique jewelry to get a better idea of design. Looking at what others did in the past helped me better understand how a piece should flow. After reading this article however, I realize that I was limiting my design inspirations.
If you think about it we're surrounded by design. Take nature for instance. Walking through your backyard garden or a local park you're inundated with design ideas. Something as simple as a flower can provide you with endless design possibilities. Look at the shape of the petals, the curve of the stem, the color variations, all of these elements can be used to design jewelry. Am I saying make jewelry that looks like flowers? That's up to you. If looking at flowers inspires you to design a line of flower jewelry, then by all means do it. However, my point is far more abstract then that. The various design elements found within nature can give birth to new and exciting work.
Here's an example of a design inspired by nature. This Feather Brooch has many elements that are based on a literal feather; the center rib, stem, and basic shape. But that's where the similarities end. The overall piece lacks some of the fine detail that would make it look like a literal feather. There are just enough details to give the viewer the illusion of a feather. By using some of the feathers elements I was able to create something that was familiar but different at the same time. This design intrigued the person who eventually purchased it. They loved the overall shape and familiarity of the design.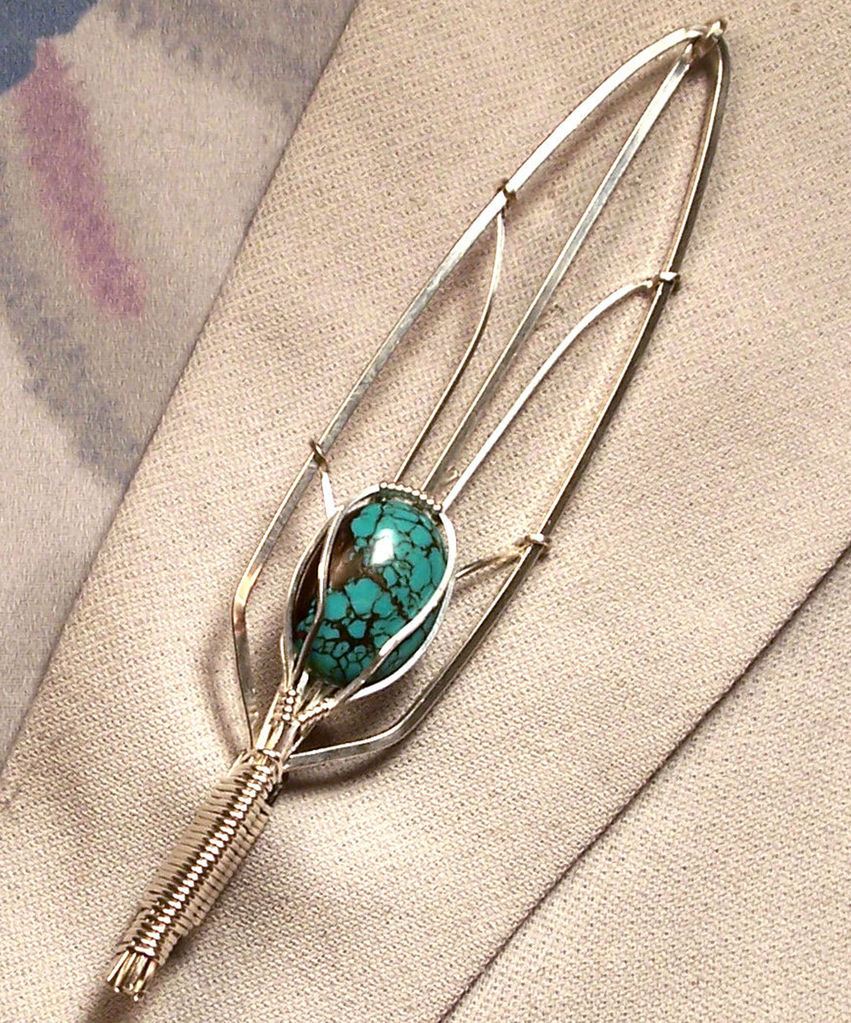 Feather Brooch Tutorial Available at -